The Best 5 Czech Pastries and Where to Get them
If you are planning a trip to Prague, chances are you know this to be the uncontested capital of beer. You also may be aware of our love for meat, but what about Czech desserts? Well, we have quite a sweet tooth. In fact, we enjoy our desserts so much that we even have sweet main dishes! Yes, you heard that right. So…if you've always wanted to skip lunch and just go straight to a double serving of dessert, the Czech Republic can make your dream come true. 
What's on the sweet lunch menu?
Ovocné knedlíky: Fruit dumplings with quark cheese. They are a Czech staple and usually come with a generous serving of melted butter and are sprinkled with poppy seeds. A classic Czech combination of flavours just like my granny used to make.
Buchtičky se šodó: Small yeast dumplings served in a custard sauce. This one has a special nostalgic flavour for Czech people because it used to be served in the school canteens and it was everyone's childhood's favourite.
Lívance: Round, thick, and feathery Czech pancakes. The difference between lívance and all the other pancakes: yeast. It gives them an incredibly soft texture while leaving them a bit crispy on the outside. They are usually smaller and come in a big bunch. There are many toppings to choose from, but the traditional are fruit jams (plum, strawberry, apricot). They can be also served with powdered sugar and cinnamon on top. 
Now…let's go back to the Czech pastries. If don't do a bit of research about Czech pastries beforehand, you might end up savouring Trdelnik at the Old Town Square sold by some old lady saying it's just like her granny used to make. Of course, you should take that with a pinch of salt. Trdelnik is nothing more than a tourist trap that has caught on recently and has since boomed in the central zone of Prague. Actually, it was traditionally made in Hungary, where it's called Kürtőskalács (good luck pronouncing that, I failed). It was also popular in Slovakia, but it was first mentioned in a Czech context in the 20th century. That being said, it is not bad at all, it has a crunchy crust and a soft inside with a nice cinnamon finish. It also comes filled with ice-cream, which is extra popular with tourists in summer. 
But, if you want to eat like a true local, then you must try these 5 Czech pastries. Just a bit of a warning though: they are super sweet, fatty slices of heaven that are incredibly addictive. Don't say I didn't warn you and let the countdown begin!
5. Kremrole
These simple beauties are made of puff pastry roll with whipped cream or meringue filling that literally melts in your mouth. This is not only a Czech pastry though. It has had a long tradition in the former Austro-Hungarian area. So, why don't you compare the kremrole in Prague and Vienna and try to spot the difference? Get the best kremrole in Prague in Erhratova cukrárna (Erhart Cafe). It is an old authentic pastry shop beloved by all in Prague. There are several locations of this cult pastry shop around the town with the oldest one being in the Letná district. The two newer ones are in Vinohrady and the in the New Town, close to Wenceslas Square. 
4. Rakvičky
This pastry is also very simple, a hollow biscotti filled with whipped cream or egg custard with another serving of whipped cream on top. Don't be fooled by the simple recipe though, rakvičky have incredibly rich flavour. They are very traditional too, so you will find it in every Czech pastry shop. Now, if you do try them, you can say to your friends and family that you ate little coffins in Prague. Yes, you heard it right, that's what the name literally means. They are called little coffins because their shape resembles coffins. We Czechs have an interesting sense of humour, don't we? To get the best rakvičky try Erhart Cafe again or head to one of the several locations of IF cafe. 
3. Větrník
This is a doughnut shaped choux pastry filled with vanilla and caramel cream and extra caramel glaze on top. The choux pastry is soft yet crunchy, and with every bite you get a perfect combination of vanilla and caramel. Pair that with a nice cup of coffee in some of Prague's best pastry shops and you'll have the ultimate authentic Prague experience. Get the best pastry shop experience in Cukrárna Myšák or Café Savoy. They are authentic high quality venues with unforgettable atmosphere. 
2. Buchty
Buchty are buttery yeasted buns usually filled with plum jam or quark cheese. They are golden brown pieces of heaven that are usually served for breakfast, but also go great with coffee any time of the day. So, no wonder you can find them in most great coffee shops around the town. You can get the best buchty in town from EMA Espresso Bar and the bakery Antonínovo pekařství (they make great coffee too and have many locations around Prague). Also, the hip restaurant ESKA in the Karlin district makes one of the best buchty in town.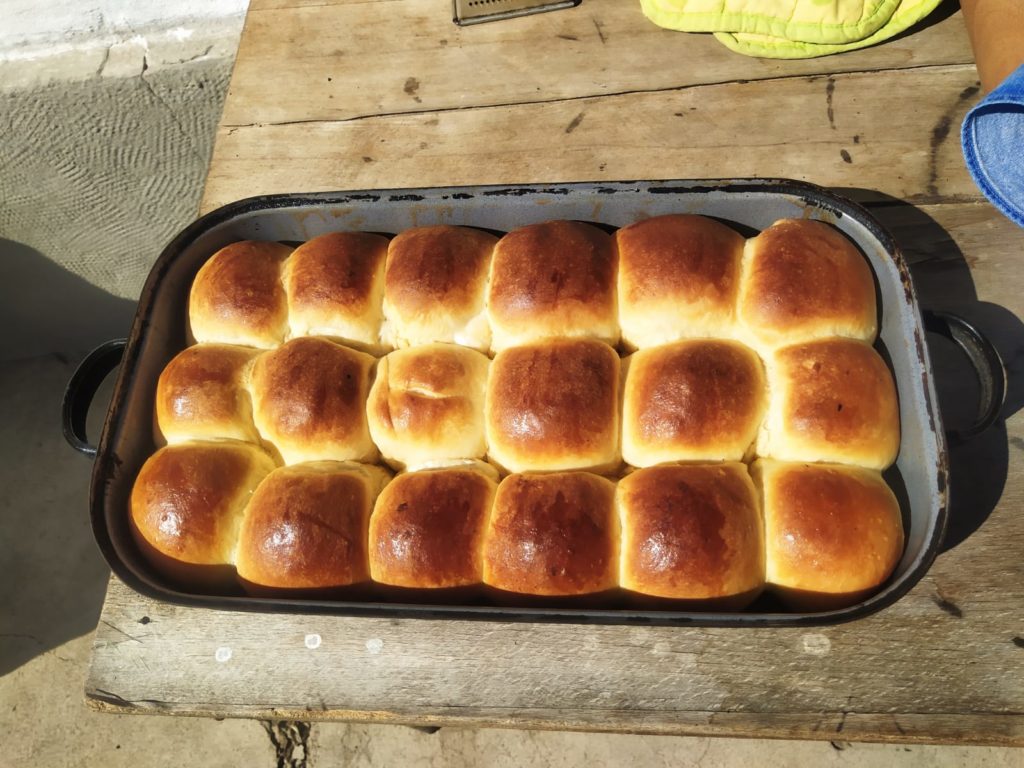 1. Koláče
Koláče is breakfast staple, snack staple, dessert staple…simply, there's no fun without koláče on the table and that's why it's the first on the list. It is a pastry roll topped with all kinds of goodies. Traditionally there is plum jam, poppy seeds or quark cheese. I especially love it when the topping is divided into a few parts so I get to taste different flavours. You can also get some more modern variants, such as strawberries, apricots, or raisin toppings, which are very interesting, but if you're trying it for the first time, stick to the traditional toppings to get a better picture.
Koláče is one of Czech Republic's most famous 'exports'. It was introduced in America by Czech immigrants and ever since it has become a favourite comfort food there. It is so popular, that Montgomery in Minnesota is proclaimed the koláče capital of the world. But, let's go back where it all originated: Prague. To get the best koláče visit some of the best farmer's markets in Prague. The pastry shop Cukrář Skála makes some damn good koláče too.
If you want to taste the best Czech pastries in Prague while learning about the rich history of the city, join us on our City Highlights Tour or Old Town Food Tour. We will quench your hunger for pastries and for knowledge!
February 3, 2020